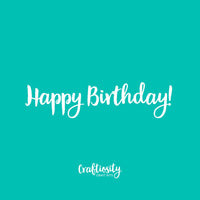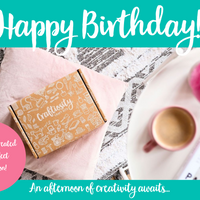 Treat them to their own crafternoon of fun with our Happy Birthday Craftiosity gift card. 
Choose from 1, 2 or 3 kit gift card value for them to choose their perfect craft kit from our store when it suits them. 
Our gift cards are sent digitally to your email so you can choose to forward on to your recipient or print off at home.
Alternatively, you can purchase a craft kit gift subscription, where the birthday recipient will receive their first box straight away. 
Gift Cards are valid for one year from the date of purchase and redeemable only within the UK.
Please note the craft kit subscription boxes can contain sharp items and should only be bought by persons ages 18+
Each Box Contains
- A limited edition craft kit to make a complete project
- All the tools & materials you'll need (you'll just need household items like a pencil or ruler)
- Clear step by step photo instructions
- Online video tutorial
- A little something for your pinboard
CREATIVITY, DELIVERED
For crafters, by crafters... Craftiosity was born from a love of trying new crafts, and wanting to make it easy to do so (not spending hours looking through Pinterest tutorials or buying up half of the local craft shop!) - we're crafters ourselves! Each month, we focus on creating projects designed to delight and inspire you.
As seen in